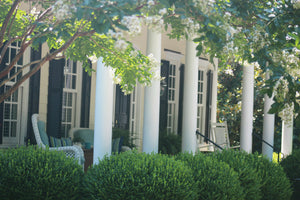 Porch & Hound
A brand conceived from my love of porch sitting.  Whether with my dogs, family, friends or alone.  An extension of the home where life can actually slow down and you can be in the moment.  A place to read, tell stories, think, laugh and enjoy simple pleasures - a summer storm, a train whistle in the distance, a neighbor's friendly wave, birds on the feeder or nature's sweet chorus on a warm summer night.  
Our American made, equestrian inspired pieces are designed with classic lines and materials that are chic, rugged and waiting for your next adventure. Make memories be it on the porch, in a meadow, traveling and let time stand still.  Life moves at an alarming rate - we all need to slow down now and again. We hope our brand will remind you to do just that and invite you to
Sit... Stay... Enjoy!